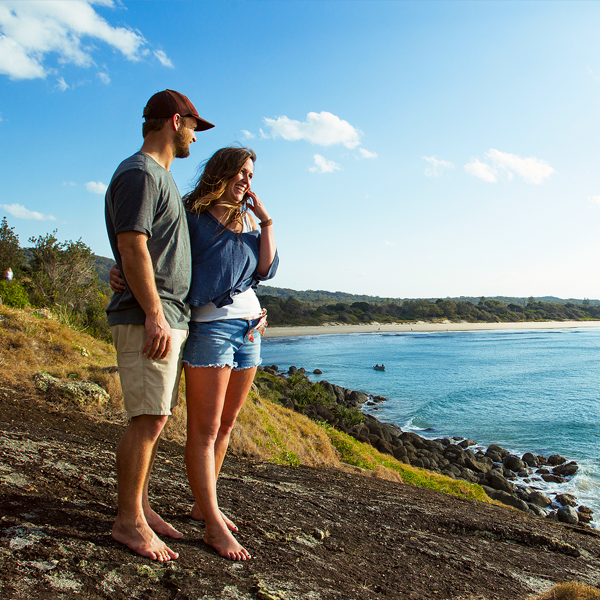 Welcome to the beautiful coastal oasis of Hat Head, a sleepy and secluded beach-side town found on the Mid North coast of New South Wales. Located in the stunning Macleay Valley, Hat Head is approximately 459 kilometres north of Sydney, and only under a half an hours drive from Kempsey, the main town in the Macleay Valley Region.
Whether you're an avid surfer, a grey nomad passing through in a caravan or a young family looking for a place to explore with the kids for the weekend – Hat Head is a must-do destination. Synonymous with soft golden sandy beaches, mesmerising sea cliffs and wondrous views, you'll be wondering why you didn't visit the town sooner.
So if you're planning a few days away, read up on our exploration guide for some ideas on things to do in Hat Head.
Take some time to go fishing
If you love to have a fish, then Hat Head is the prime destination for dropping a line. For some epic beach fishing, Main beach north from Hat Head to Crowdy Head and is accessible by foot and 4WD. The most common catches here are bream, flathead, whiting and dart. Hungry Beach is located south from Hat Head to Crescent Head and is also accessible by foot and 4WD; the parking area is in National Park, so be aware that parking fees apply. Most common catches here are bream, flathead, dart, whiting, tailor and occasionally Australian salmon. Connors Beach is another excellent fishing spot that's accessible by foot. Just head over to the walking trail over the headland which is south of the township. Common catches here are bream, dart, tailor and mulloway.
For some good ol' fashioned rock fishing, there is a walking trail from the township all the way out to and around the headland. In addition to catches of bream, blackfish, trevally and tailor, this area is famous for land-based game fishing for mulloway, kingfish, bonito, spanish mackerel, tuna and even marlin.
If deep-sea fishing is more your style, the most obvious and very popular is the mark you can see from the shore, namely Fish Rock. You need to be aware this is a Grey Nurse critical habitat area and the restrictions that apply there. However, there are three main reefs running north/south and following is a list of commonly used and productive marks.
When the wind or swell makes it too rough for offshore and rock fishing, grab the lighter rods and hit Korogoro creek for fun with the resident whiting and mullet which are prolific with the incoming tides. The kids will have a ball and it's all meters from your caravan or campsite. Other species regularly caught here include flathead, luderick and seasonally frigate mackerel and mud crabs.
Fishin' info courtesy of Hat Head Fishing Club.
If you're looking for more places to fish outside of Hat Head but still close by, check out The best fishing spots on the NSW mid-north coast.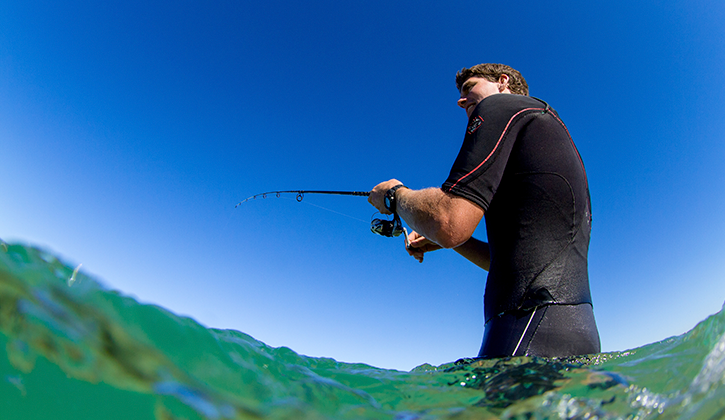 Go for a world-class surf
Hat head is a renowned surfing destination, boasting world-class waves with awesome right breaks beside the headland.
For more experienced surfers, there's a couple of very isolated beaches to the south of Hat Head, offering protection from north winds. Just be aware of the high wave energy and strong currents.
If you're a beginner, the southern end of Hat Head beach is a great spot to ease into some light and cruisy waves. If the waves are too small, head up the beach for some more exposed peaks, just make sure you avoid the rips and longshore gutters that form, especially as you head north towards the more exposed middle part of the beach.
Check out our tips on surfing for the first time.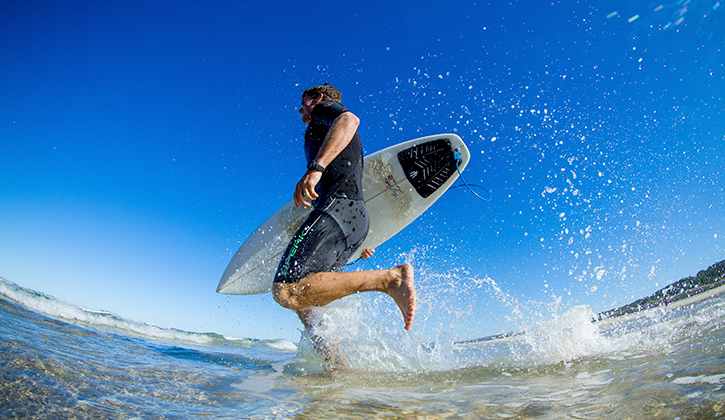 Explore Hat Head National Park
Rated as one of our favourite NSW National Parks, Hat Head National Park is a little pocket of paradise. Boasting incredible sand dunes, tranquil rainforest and crystal-clear lakes make this famous National Park the perfect backdrop for some truely spectacular #instaworhy photos.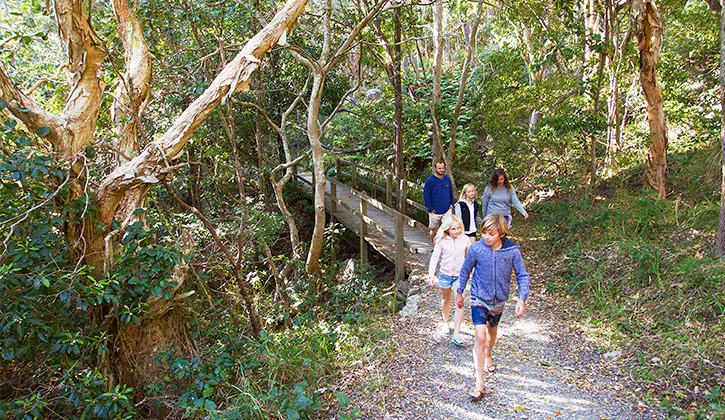 Set out on the Korogoro walking track
Korogoro walking track is a popular walking track located on the eastern tip of Hat Head National Park, with direct access from Hat Head Holiday Park. The track is 3.2km long and will take roughly 1 – 2 hours. On the track, you'll find beautiful wildflowers, breathtaking coastal views, mesmerising rock formations and even some wild kangaroos. Stop along the track for a picnic lunch while you take in the fresh ocean breeze. Just remember to also pack our hat, sunscreen and plenty of drinking water.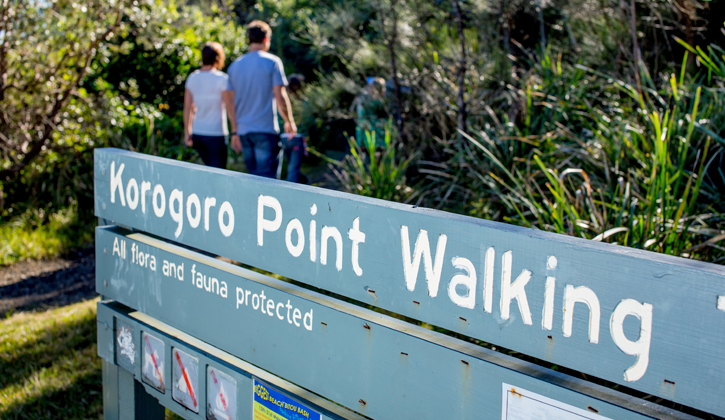 Enjoy some grub a Mozzie Bites Restaurant
Whether you're hungry for a 300g scotch fillet or a grilled barramundi, Mozzie Bites Restaurant is the perfect place to relax while enjoying a delicious meal. Located inside Hat Head Bowling Club, Mozzies is open 7 days a week for lunch and dinner.
Smokey Cape Lighthouse
Less than half an hour out of town, take a scenic drive and discover Smokey Cape Lighthouse. Built in 1891, the lighthouse is a great spot for whale watching and birdwatching. Climb the winding staircase and be rewarded with a scenic treat, with spectacular views of Hat Head National Park and the beautiful coastline. Bring along a picnic basket and blanket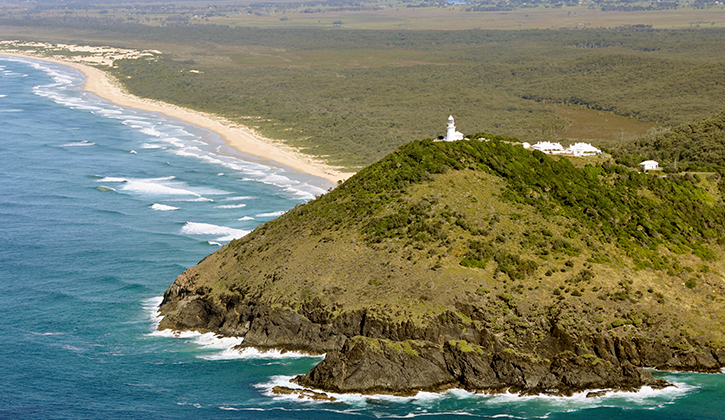 Take a step back in time at Trial Bay Gaol
30 mins from Hat Head
Just 9.2 km from Smokey Cape Lighthouse is the historic Trial Bay Gaol, which offers a glimpse into Australian history. The hauntingly beautiful location originally opened in 1886 and was home to prison labourers before becoming an internment camp during World War I. Spend the day stepping back in history by exploring the ruins and old cells while learning about how the gaol shaped the Macleay Valley Coasts future.
Explore the Macleay Valley Coast
Your Hat Head adventure doesn't need to stop there, with so any amazing towns to explore on the Macleay Valley Coast, why not stick around for longer?
South West Rocks
25 min (28.0 km) from Hat Head via Hat Head Rd and S W Rocks Rd
South West Rocks is a coastal town which attracts many holidaymakers all year round. The town is home to a lively local shopping and dining scene, offering a number of fashion boutiques, trendy cafes and restaurants serving up delicious seasonal produce. If you're a diving enthusiast, South West Rock has one of the coolest dive spots in the country, Fish Rock Cave, the only true ocean cave dive in Australia running 125 metres long! Fish Rock is home to a completely unique ecosystem, with Grey Nurse Sharks offering a rush of adrenaline and truely amazing photograph opportunities.  Check out South West Drive Centre for more information on dive tours. If you're planning to stay and soak in the beauty of South West Rocks for more than a day, Horseshoe Bay Holiday Park offers great accommodation, with easy creek access and sweeping hinterland views.
Stuarts Point
40 min (50.6 km) from Hat Head via Macleay Valley Way
If you're an avid fisher or just someone that enjoys being out on the water, then Stuart's Point is the place for you. The area offers endless opportunities to cast a line and is a great place o enjoy fantastic canoeing and kayaking. And with Stuart's Point Holiday Park sittuated right on the pristine Macleay River, why not extend your holiday and stay a few days?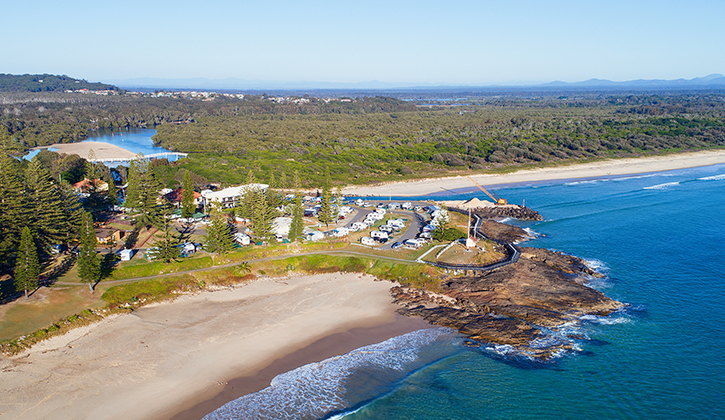 Crescent Head
42 min (48.6 km) from Hat Head via S W Rocks Rd
You can't visit the Macleay Valley without making a stop to Crescent Head. Renowned for its world-class right-hand surf breaks, this famed Australia surf town surfers is surrounded by spectacular coastal national parks, great bushwalking trails, excellent fishing spots and great vantage points for whale watching.
Grassy Head
48 min (57.0 km) from Hat Head via Macleay Valley Way
Grassy Head is the perfect escape from the pressures of the world. Take a surfboard and head down to Grassy Head Beach, located directly opposite Grassy Head Holiday Park. The beach features a right-hand beach break abundant with sea life which, on calm days, makes it the perfect spot for snorkelling. If you enjoy fishing, the southern rocks have the best access and gutters teaming with bream, drummer, flathead, luderick, mulloway, rock blackfish, tailor, trevally and whiting.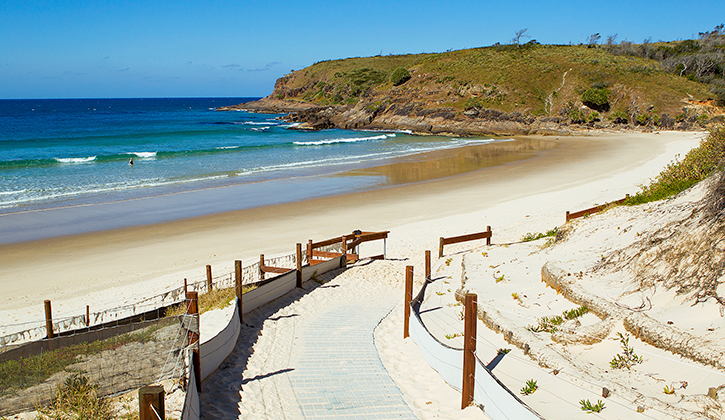 Your Hat Head Holiday is waiting
Our beachfront holiday park is perfect place to set up base while you spend time exploring the Macleay Valley Coast.
Check availability