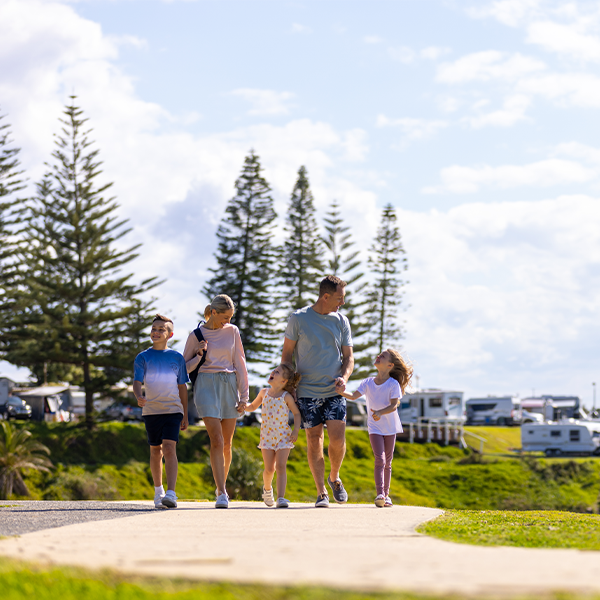 Ditch the family iPad for extra sneakers and all-weather gear – Macleay Valley is a treasure trove of adventure for youngsters. Sure, it's best known for some of NSW's most picture-perfect coastal views, but it's also home to a truckload of activities designed entirely for kids – and not just adventurous teens! Catered to mini mes of all ages, our list ticks off all the good stuff so your only challenge will be deciding where to start…
If you're visiting with… tiny tots
Soak up the serenity in safe waters: Visitors to Macleay Valley are spoiled for choice when it comes to tranquil swimming spots, but South West Rocks'Horseshoe Bay Holiday Park offers a protected slice of paradise that can't be missed. Small waves make it the ideal spot for small kids to splash about safely, while a nearby playground goes one step further in sealing the deal.
Get your game on, sand castle style!A visit to one of Macleay Valley Coast Holiday Parks wouldn't be complete without some fun in the sun. Pack some buckets and spades and get the whole gang involved in a sand castle build. Sure, bubs will get more out of knocking your granular masterpiece over but getting messy in the sand on a beach holiday is a rite of passage.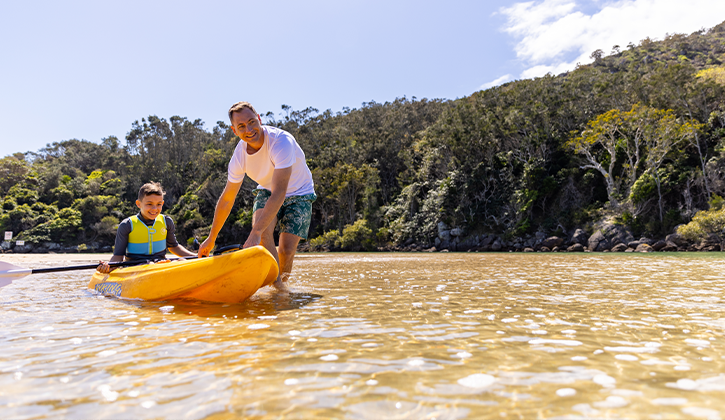 If you're visiting with… primary schoolers.
Take full advantage of school holiday programs: Kids already reaching for the TV remote? Point them towards the genius activities taking place at each of Macleay Valley Coast Holiday Parks' five. Think kids' discos, face painting, scavenger hunts, guessing games, arts and crafts, sand art, cookie decorating and so much more. Something for absolutely everyone.
Play 'Spot the Whale': Two of Macleay Valley's most stellar whale watching spots can be found within walking distance from Hat Head Holiday Park and Crescent Head Holiday Park. Get the kids involved while strolling Korogoro Walking Track, right near Hat Head Holiday Park, and hunt for big friendly giants yourself at Reservoir Lookout, located on the south-eastern side of Crescent Head. If they can't get enough it, keep their eyes peeled on the drive from South West Rocks' Horseshoe Bay Holiday Park to Hat Head National Park's Smoky Cape Lighthouse, too.
Snorkel the many majestic: If you've only got time for one trip out, choose Trial Bay Goal Front Beach at South West Rocks. It faces north so it's protected from most swell directions, which means super clear sticky-beaking conditions, but best of all, you'll spot the remains of 50-year-old ferry shipwrecks. Incredible. If it's high tide, head to the equally shimmering Korogoro Creek at Hat Head. Tell your junior burgers to keep their eyes peeled for tropical fish, mullet, hermit crabs and the odd octopus if the snorkelling gods are on their side for the day.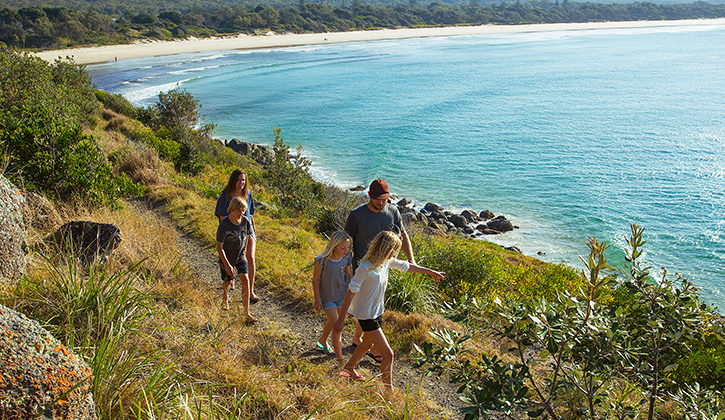 If you're visiting with… young teens prone to boredom
Send them to the games room: A six machine-strong kids' games room opened its doors at Crescent Head Holiday Park in February 2022, keeping growing offspring entertained ever since. All the classics are on board – Super Mario, Donkey Kong and Pac-Man to name just a few.
Help them learn to surf: World-famous waves at Crescent Head and relaxed waters at Horseshoe Bay in South West Rocks make for ideal conditions to grab a board and live the pipedream. Sign up to one of a string of local surf schools, where you'll also be able to investigate board hire for the day, including On Point Surf School at Crescent Head and Trent Munro Surf Academy at South West Rocks.
Say yes to SUP: Big waves not your kids' jam? Steer them towards a board that remains glued to the water. While stand-up paddleboarding might look as intimidating as surfing to beginners, companies like SWR SUP offer complimentary beach practice before you get stuck into the real thing. Back Creek in South West Rocks, where the company is located, is perfectly still so you can spy the creek's bluespotted ribbontail rays and schools of fish as you get the hang of it.
Image Credit: Destination NSW